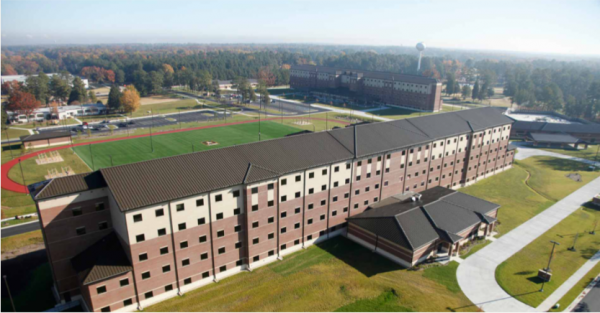 (BPRW) Commission Recommends Changes for Army Bases Named for Confederate Leaders | Press Releases
(BPRW) Commission recommends changes for Army bases named for Confederate leaders
(Black PR Wire) A congressional commission has recommended that nine Army bases named for Confederate leaders be renamed to honor women and soldiers of color, among others.
Established as part of the Defense Authorization Bill last January following nationwide protests against racial injustice following the police killing of George Floyd, the Naming commission is responsible for renaming or removing "names, symbols, displays, monuments, and paraphernalia" that commemorate the Confederacy or any person who served voluntarily with the Confederate States of America.
In addition to nine army bases, he found over 750 Department of Defense assets that honor the Confederacy, including street names and monuments.
Rooted in our history of racial injustice
The army bases to be renamed were built in former Confederate states during the first half of the 20th century — the same period when white Southerners installed hundreds of Confederate monuments as part of an effort concerted to redeem their defeat and create cultural support for the restoration of white supremacy.
Confederate monuments that romanticized and glorified the effort to preserve slavery often received political endorsements from outside the South, including the federal government. Northern appeasement of white Southerners included actively funding the creation of a cultural landscape designed to perpetuate white supremacy and black racial subordination.
Naming Army bases after Confederate officers with local connections– often "with input from regional leaders and groups who have sympathized with the rebel cause," such as the Washington Post reported— was part of that effort.
"Army leaders, not to mention the political figures of the time, no doubt wanted to ingratiate themselves with the southern states in which the forts were located," retired General David Petraeus said. wrote in a grandstand in the Atlantic. "They bowed to – and in many cases shared – the nostalgia for the lost cause that also sponsored so many civic statues, street names and commemorative constructions from the end of Reconstruction to the 1930s, when the trend faded but didn't completely stop."
The military's glorification of Confederate leaders played a vital role in restoring the racial hierarchy they fought to preserve – and its legacy continues to hang over black servicemen today.
"We are forcing our black soldiers to serve on a base named after the leaders who served to keep them in chains," said Iraq War veteran Fred Wellman. Told Voice.
"I learned to fly helicopters at Ft. Rucker. I deployed to Iraq from Fort. Bragg, and earned my jump wings at Ft. Benning. All of those bases were honoring men who wouldn't of me or other black Americans serving in uniform, let alone in Congress," Rep. Anthony Brown (D-MD), a retired Army colonel and vice chairman of the House Armed Services Committee, said. in a statement.
He Told Vox, "The bases that continue to bear the names of Confederate soldiers and officers – people who falsely fought to protect the institution from slavery and allegedly refused black Americans to serve in the military – recall this systemic oppression that we continue to face and undermines the culture of inclusiveness necessary for mission accomplishment.
New names honor various groups of heroes
After receiving more than 34,000 submissions from the public, the commission reviewed 3,670 names and narrowed the list to less than 100. They gathered feedback from installation tours and community listening sessions before deliberating on recommendations. name finals and make their selections last month.
"This was an exhaustive process that involved hundreds of hours of research, community engagement and internal deliberation," retired Marine Adm. Michelle Howard, Chair of the Commission, Told The New York Times. "This list of recommendations includes American heroes whose stories deserve to be told and remembered; people who have fought and sacrificed so much on behalf of our nation.
Fort Polk in Louisiana, named after Confederate enslaver and Lieutenant General Leonidas Polk, will become Fort Johnsonafter Henry Johnson, a private of the 369th Infantry Regiment of the 93rd Division, a group of black National Guardsmen from Harlem, New York, hailed as the Harlem Hellfighters.
On May 13, 1918, Private Johnson was part of a five-man patrol that was attacked by a group of 24 German soldiers. He was shot several times and seriously wounded but kept fighting, preventing the Germans from taking his fellow soldier prisoner and eventually forcing them to retreat.
Private Johnson was promoted to sergeant and became one of the first Americans to receive the Croix de Guerre with Palme, France's award for the greatest bravery, for his gallantry in what was widely reported as the "Battle of 'Henry Johnson'. It was awarded posthumously the Purple Heart in 1996 and the Distinguished Service Cross in 2002.
Fort Lee in Virginia, named after Robert E. Lee, will be renamed Fort Gregg Adams, after the retirement of Lt. Gen. Arthur Gregg and Lt. Col. Charity Adams. Gregg enlisted in 1945, aged 17, and excelled in supply logistics, helping the army rebuild devastated areas of occupied Germany. He became Director of Logistics for the Joint Chiefs of Staff and Deputy Chief of Staff for Army Logistics, becoming one of the highest-ranking African Americans in the Army.
In 1944 Lieutenant Colonel Charity Adams Earley was chosen to command the first black women's unit to serve overseas – the 6888th Central Postal Directory in England, which was responsible for delivering mail to and from nearly seven millions of American soldiers fighting in Europe. His unit handled some 65,000 letters each day; it took three units of men to replace his battalion after they were disbanded. But gender discrimination limited her promotion to lieutenant colonel, the highest rank a woman could achieve during the war.
Fort Hood in Texas will become Fort Cavazos, after General Richard Cavazos, who grew up on a ranch in Texas during the Great Depression and earned his first Distinguished Service Cross as a young officer during the Korean War. He became the Hispanic Army's first four-star general and retired after supporting, training, and deploying all Army deployable forces in command of U.S. Army Forces Command.
Fort Pickett in Virginia will be renamed Fort Barfootfor Colonel Van T. Barfoot, a Choctaw Indian from Mississippi who received the Medal of Honor after single-handedly shooting down three German machine gun positions in northern Italy during World War II and, later the same day, using a bazooka to destroy a tank, then supporting two wounded soldiers to be treated nearly a mile across exposed terrain.
No Army base name currently honors women, even though women made up more than 15% of the military and more than 34% of its civilian workers in 2021, according to Smithsonian Magazine. In addition to Lt. Col. Charity Adams, two other women are to have bases named in their honor.
Fort AP Hill in Virginia will become Fort Walker, named after Dr. Mary Walker, a staunch abolitionist and advocate for women's rights and equality who, in 1863, became the first female surgeon in Army history. She continued to serve after being captured by the Confederates and imprisoned for four months in Richmond, and in 1865 she was awarded the Medal of Honor.
Fort Benning in Georgia will be renamed Fort Moore, in commemoration of Lieutenant General Hal Moore and Julia Moore, recognizing the service and sacrifices of military families. While her husband was serving in Vietnam, Julia Moore reformed Army policy to notify families when loved ones were injured or killed.
Dwight D. Eisenhowera five-star general before becoming president, will be commemorated by the renaming of Fort Gordon in Georgia, which is named after Lt. Gen. John Brown Gordon, who was well known head of the Georgian Ku Klux Klan.
Fort Rucker in Alabama will become Fort Novosel, named after Michael Novosel, a 42-year-old Air Force Reserve lieutenant colonel who resigned his commission to serve as a helicopter pilot in Vietnam. After receiving the Medal of Honor for medically evacuating 29 casualties under heavy fire, he continued to serve in the Army Aviation and evacuated his son when he was shot down over Vietnam. "Combined service of father and son honors generational service", the commission wrote.
The largest military installation in the world by population is named after slaveholder and Confederate General Braxton Bragg. Fort Bragg in North Carolina will be renamed Fort Liberty—the only recommendation that commemorates a concept rather than a person. The Commission wrote that "Fort Liberty symbolizes the American military's defense of freedom for nearly 250 years".
The commission's recommendations will be included in a written report to the House Armed Services Committee and the Senate Armed Services Committee, due Oct. 1, 2022. Secretary of Defense Lloyd J. Austin III has the final authority to order the renaming of the base, which must be implemented by January. 1, 2024.
The content and opinions expressed in this press release are those of the authors and/or companies represented, and are not necessarily shared by Black PR Wire. The author(s) and/or companies represented are solely responsible for the facts and the accuracy of the content of this press release. Black PR Wire reserves the right to reject a press release if, in Black PR Wire's opinion, the contents of the release are unsuitable for distribution.